Here you'll find all the latest press releases on the issues and news coming out of Vossloh Rolling Stock.
09.05.2023

Hydrogen Agreement: Vossloh Rolling Stock and duisport rail sign letter of intent at transport logistic 2023
Kiel, 09. May 2023,
Hydrogen Agreement: Vossloh Rolling Stock and duisport rail sign letter of intent at transport logistic 2023
Product and service expert for center-cab locomotives and railway undertaking confirm letter of intent
Letter of intent for locomotives running on hydrogen marks milestone within the mobility revolution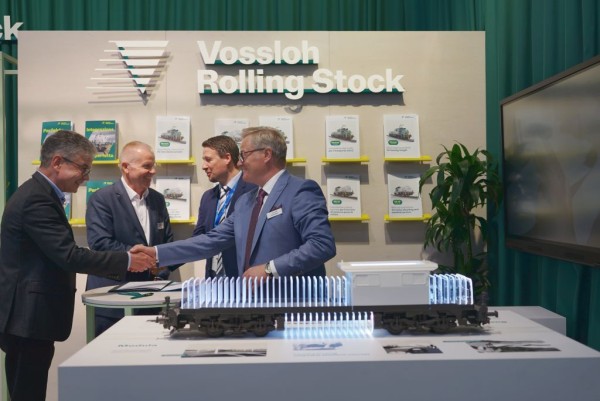 Munich, 9th of May, 2023: Vossloh Rolling Stock, manufacturer and service expert for locomotives, is showcasing itself as an old-established company with a spirit for innovation at transport logistic, the international exhibition for logistics, mobility, IT and supply chain management in Munich. duisport rail is also there exhibiting as a freight transport service-provider boasting experience and vision in equal measure. The two companies are linked by a collaborative partnership of many years' standing – and by a joint agreement for the future: a newly signed letter of intent (LOI) for hydrogen-powered locomotives.
The setting for the two companies' official agreement for up to two Modula locomotives with hydrogen drives is the four-day fair transport logistic, which attracts an international audience of professionals to Munich every two years. "This letter of intent sends a strong signal", points out Dr. Bernd Hoppe, Executive Director and General Manager of Vossloh Rolling Stock, "about our company, our collaboration with duisport rail and about hydrogen as a key component unlocking eco-friendly answers to the questions posed by the future." Dr. Hoppe added that, in addition to technology and infrastructure, resolute cohesion on the part of all the industry's stakeholders would be needed for the mobility revolution to succeed. There were already signs that this collaboration would provide a shining example of this cohesion when Duisburger Hafen AG initiated a preliminary study on hydrogen-powered shunting locomotives in 2022. That study gave Vossloh Rolling Stock the opportunity to contribute expertise in the form of information and measurements.
In addition to the powerful, versatile and energy-efficient four-axle DE 18, Vossloh Rolling Stock is also presenting its future-oriented Modula model at the fair. This locomotive features hybrid configurations and equipment that can be selected to suit the respective areas of operation. It also features built-in compatibility with upcoming drive options such as hydrogen-based drive systems.
The owner of duisport rail, Duisburger Hafen AG, is currently erecting a new container terminal in Europe's largest inland port. The new terminal's operations will be largely climate-neutral. "Our concept also includes shunting locomotives with hydrogen drives", explains Hans-Georg Christiansen, Executive Director and Head of Rail Operations at duisport rail. "Some of the diesel locomotives currently in operation will be replaced by hybrid models. We have high hopes for hydrogen as a future alternative with the vehicles that essentially shunt outside the electrified rail network. These new Modula locomotives are ideally suited to this strategy because they can be perfectly calibrated to the respective shunting operations and they contribute enormous synergy potential when combined with the battery-powered Modula EBB version, two of which are going into service at the Port of Duisburg in 2025."
About Vossloh Rolling Stock:
State-of-the-art, center-cab locomotives from Vossloh Rolling Stock lead the way throughout Europe. Attributes such as economy, flexibility and environmental friendliness are at the forefront of this European market leader's development, design, production and service quality. Operators are also provided with comprehensive, demand-oriented maintenance services through the company's own IMATEQ service network, which operates throughout Europe. Having joined the group of companies under the umbrella of its new parent company CRRC ZELC in 2020, this old-established company is now beginning a new international chapter in its long history. More information is available at www.vl-rs.com.
About duisport rail:
duisport rail GmbH is a public railway undertaking for the transportation of freight with its head office in Duisburg in North Rhine-Westphalia. The company's service portfolio includes linking the various port zones of Europe's largest inland port on 200 kilometers of rail network, regional rail shuttles in a radius of approx. 150 km and shuttle services in collaboration with partners to a number of regions in Europe. The newly built container terminal Duisburg Gateway and the harbor district Duisburg-Ruhrort are striving to be climate-neutral by, among other things, converting to alternative drive systems for line hauling and shunting operations.
PR contact
Vossloh Rolling Stock
Verena Jeroch
Head of Communication & Marketing
Phone: +49 (0) 431 39 99-2613
E-Mail: verena.jeroch@vl-rs.com
PR contact
duisport rail
Michael Albers
Managing Director
Phone: +49 (0) 203 803-4276
E-Mail: michael.albers@duisport.de
18.04.2023

DE 18 Stage V locomotive given ERA approval in Italy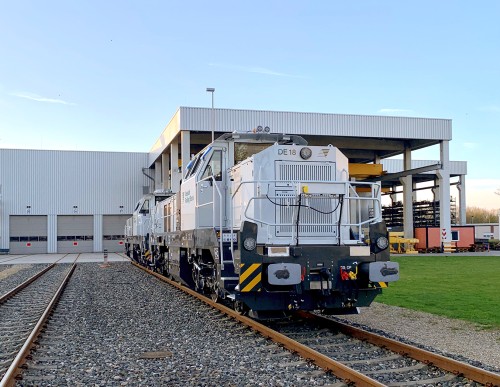 Kiel, 18. April 2023, The European Railway Agency (ERA) has approved Vossloh Rolling Stock's DE 18 Stage V mixed-traffic locomotive for use on the Italian railway network. "Now that our powerful flagship locomotive has successfully positioned itself with Italian operators and is being used to provide a host of strategic services, we're employing the latest engine technology to increase both the deployment radius and the versatility of the DE 18 for our customers", says Dr. Bernd Hoppe, CEO of Vossloh Rolling Stock.
Latest generation engines for more variable applications
The Stage V engines set themselves apart thanks to particularly low emissions that remain well below the legal limits without the use of either urea-based or any other additives. And using them in combination with the 'Low Emission' function developed by Vossloh Rolling Stock halves the measured values again, making the DE 18 Stage V locomotive suitable for use on construction sites or in areas with special emission requirements like tunnels or marshaling yards. Taking the environmental concept further, the engines have been engineered to also be able to run on HVO biofuels without requiring modifications, which can reduce CO 2 emissions by up to 55 percent.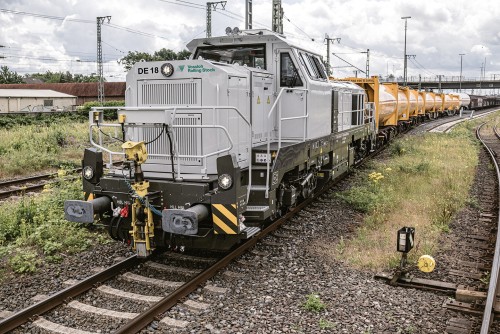 Highest priority market
With its extensive railway network and one of the highest volumes of rail freight traffic in Europe, Italy has been one of Vossloh Rolling Stock's target markets since the beginning. "The growing demand for powerful locomotives resulting from the trend in Italy towards longer and heavier trains comes at a perfect time for us to participate in this growth with our sophisticated DE 18 and the latest generation of engines. We're encountering a very good business climate in Italy ripe for technological change," says Dr. Hoppe. "With the DE 18 Stage V, we're proud to be able to provide our Italian customers with a state-of the-art traction vehicle that is even more versatile and gives them more scope to drastically reduce environmental impacts with environmentally-friendly fleet management."
PRContact
Vossloh Rolling Stock
Verena Jeroch
Head of Communication & Marketing
Phone: +49 (0) 431 39 99-2613
E-Mail: verena.jeroch@vl-rs.com
Vossloh Rolling Stock
Having come under the umbrella of its new parent company CRRC ZELC in 2020, Vossloh Rolling Stock has started a new forward-looking chapter in its long history. This close connection is laying the groundwork for significantly expanding our portfolio while at the same time pressing ahead even more rapidly with technological innovations and sustainable concepts. We profit from economies of scale in production and from material investments in our manufacturing capacities. Today, we cover every aspect of a locomotive's value chain from the design and engineering of the locomotive and platform production in a state-of-the-art production facility all the way to individualized customer service with all the ECM functions.
One of Europe's leading locomotive manufacturers and a company steeped in tradition with more than 150 years of expertise in building locomotives, Vossloh Rolling Stock is committed to sustainable mobility achieved through clear-sighted, definitive action in constant dialogue with our customers. We regard the provision of traction solutions perfectly suited to requirements as key to gaining the trust of our customers in all areas, no matter whether those customers are state-owned railways, vehicle lessors, industrial operators or privately-owned railways. Our focus has always been on providing highly efficient, well-constructed, user-friendly solutions for every kind of transport for shunting and hauling applications. We've always set new standards in the industry with our technological innovations and resource-friendly manufacturing and service processes. Ultimately, we set ourselves apart from the competition in that we always regard our collaboration with our customers and partners as a business-to-human relationship, and we do business in a very personal way.
21.09.2022

New company name and new brand identity
18.01.2022

Major order from DB Cargo for 250 DM 20 hybrid locomotives
Kiel, 18. January 2022 DB Cargo and Vossloh Locomotives signed an order for 50 hybrid locomotives and a framework agreement with an option for a further 200 locomotives in Frankfurt and Kiel at the end of last year. Their delivery and the successive renewal of the customer's vehicle fleet for domestic German freight transport will begin from 2024.
The selected DM 20 BDD drive variant has two diesel generator sets and a traction battery as energy storage. While the output of both latest-generation diesel engines is more than 900 kW and optimised control of the second engine at the ptimum operating point enables significantly reduced fuel consumption and CO2 emissions, the battery capacity is over 120 kWh. The energy storage system with extremely safe and durable lithium titanate cells can be charged both externally (plug-in) and while driving, e.g. by using the braking energy.
Dr Bernd Hoppe, CEO of Vossloh Locomotives GmbH, is delighted with the tender win: "The framework agreement underpins the continued confidence of Germany's largest logistics provider in rail freight transport in our long-established company and the Kiel production site. At the same time, it confirms that with our innovative platform concept for the DM 20 hybrid locomotive, we are putting a long-term future-proof success package on the rails. This centre-cab locomotive is ideally suited to the range of tasks at DB Cargo, both in shunting and mainline operations."
Thanks to the fully redundant drive train, the customer can flexibly convert the vehicles for later catenary operation with energy storage, if required, in order to completely dispense with the use of diesel engines in this way. In addition to this so-called EBB drive variant, which Vossloh Locomotives has already sold to several customers, DB Cargo can even retroactively integrate energy storage and energy generation technologies that will be available in the future.
Vossloh Locomotives GmbH
Verena Jeroch
Head of Communication and Marketing
Telefon: (+49-431) 3999 – 2613
E-Mail: Verena.Jeroch@vl-rs.com
29.09.2021

Vossloh Locomotives lays the foundation for cross-border freight traffic with the ETCS system from Siemens
Kiel, Germany / September 29, 2021 Siemens Mobility is equipping Vossloh Locomotives' new DM 20 Dual Mode locomotive platform with the European Train Control System (ETCS) Level 2, which will be mandatory in the future. This automatic train control system is standardized throughout Europe and will initially be installed in 100 of the locomotive manufacturer's four-axle hybrid locomotives so that they can be used in cross-border operations in the Netherlands, Germany and Austria.

"Interconnecting transport and information systems is forming the basis for the mobility of tomorrow in Europe." explains Dr. Bernd Hoppe, Executive Director and General Manager of Vossloh Locomotives. "Equipping our eco-friendly DM 20 with the ETCS Level 2 is already making us a part of this sustainable future, and awarding Siemens the order marks the start of a long-term partnership in the ETCS field." André Rodenbeck, CEO of Rail Infrastructure at Siemens Mobility points out: "The maintenance-free ETCS technology is a proven system for safe, cross-border freight traffic. With this equipment we're helping Vossloh Locomotives to increase the safety and interoperability of its fleet."

Vossloh Locomotives and Siemens Mobility already have some experience working together. The Munichbased company recently equipped Type DE 18 locomotives with the Trainguard Basic inductive intermittent train control technology and set them up for ETCS operation.

There are still around 20 train control systems in use in Europe alone, and they're generally not compatible. The European countries have consequently committed to equipping the six most important rail traffic corridors with the standardized European ETCS signaling system. Harmonizing the systems and processes is intended to improve the reliability of cross-border rail operations and enable train traffic to flow without being interrupted by technical obstacles. In addition to the latest ETCS versions (Baseline 3, Release 2), national train signaling systems are also being prepared for this cross-border traffic.

Vossloh Locomotives
Verena Jeroch
Head of Communication and Marketing
Telephone: (+49-431) 3999 – 2613
E-mail: Verena.Jeroch@vl-rs.com



15.09.2021

New state-of-the-art locomotives coming into the Benelux region
InfraVia-backed rolling stock lessor Nexrail Lease and Vossloh Locomotives have entered into an exclusive agreement for:
the purchase of a leasing pool of 53 modern shunting locomotives under lease and
an order of up to 50 DE 18 Stage V SmartHybrid locomotives for the wider Benelux region.
Kiel, Germany / September 15, 2021 Vossloh Locomotives, Nexrail Lease (Nexrail) and InfraVia Capital Partners (InfraVia) are pleased to announce that they have entered into an exclusive agreement to carve out the existing leasing pool of shunting locomotives under operating leases to European rail operators and industrial groups in Germany, France, Italy, Belgium and Luxembourg and build up to 50 new DE 18 Stage V SmartHybrid locomotives for the Benelux market.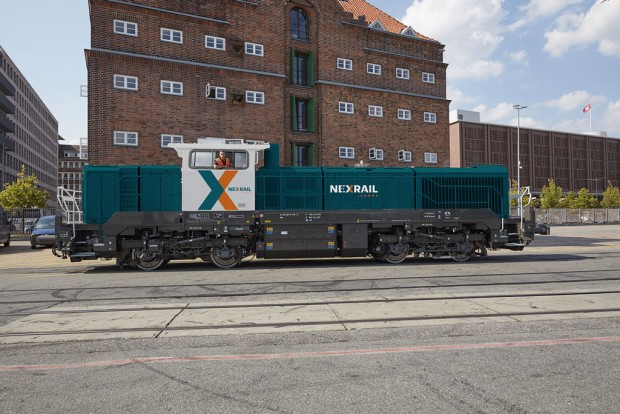 The pool consists of 53 modern and fuel / emission efficient Vossloh shunting locomotives with an average age of less than 5 years. The main types are DE 18, DE 12, G 6, and G 1000. The locomotives, together with the underlying lease, will be transferred to Nexrail, a newly created rolling stock lessor. In addition, up to 50 DE 18 Stage V SmartHybrid locomotives were ordered. The new, universal, four-axle mid-cab locomotives features a powerful (1,800 kW) and fuel-efficient diesel engine with reduced ecological footprint (Stage V emission standard) as well as an additional traction battery (144 kW), enabling up to one hour of emission-free operation combined with fuel savings of 20–50%. Equipped with ETCS, including an upgrade option to level 2, the locomotives will cover a unique homologation area consisting for Belgium, France, Luxembourg, Germany and parts of the Netherlands. By combining the latest technological advancements, the DE 18 Stage V SmartHybrid is considered as the most flexible locomotive of its kind, equally suited to heavy shunting and mainline operations as well as infrastructure tasks in construction site operations. Under the agreement, Nexrail will be the exclusive provider of this type of modern locomotives for the Belgium market.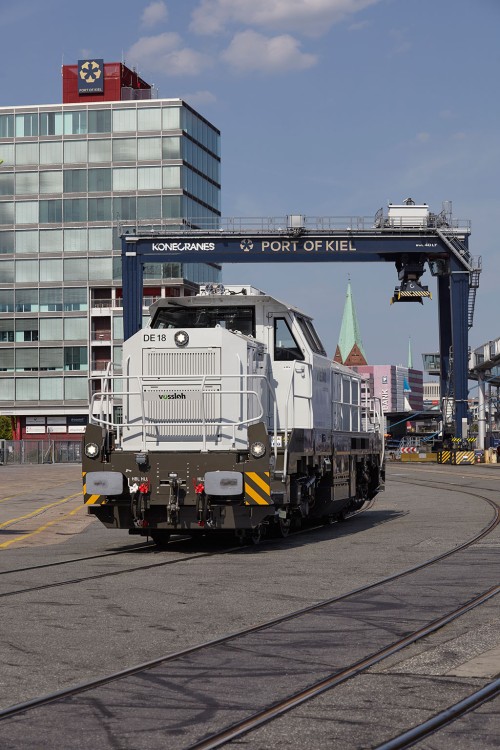 As the European market leader for mid-cab locomotives, Vossloh Locomotives, based in Kiel, Germany, is a subsidiary of CRRC ZELC since 2020 and thus belonging to the world's largest manufacturer of rail vehicles, CRRC Corporation Limited (CRRC). By combining the extensive experience gathered over 150 years of building locomotives with the latest international expertise, Vossloh Locomotives is building rail vehicles that constantly set new standards in their respective fields of application. With its rail vehicles, platform concepts and in close partnership with CRRC ZELC, new opportunities to make an important contribution to safe and eco-friendly freight transportation throughout Europe are presenting themselves.
Supported by infrastructure private equity investor InfraVia, Nexrail is a new ROSCO established by a strong management team chaired by Neil Bennett, the founder and former COO of Beacon Rail. Key Executives of the Nexrail team include CEO Luuk von Meijenfeldt, CCO Mark Remie and CTO Bernd Wagner. Nexrail ambitions is to become a leading platform offering hybrid/dual mode traction and innovative locomotives and specialized rolling stock to its clients. With this partnership with Vossloh Locomotives, and the ongoing development of partnerships with the biofuel and e-fuel ecosystem, Nexrail will be at the forefront of the energy transition journey of the non-electrified part of the railway network.
At the signing ceremony in Kiel, Dr. Bernd Hoppe, Executive Director and General Manager of Vossloh Locomotives, stated: "We have put a lot of energy and know-how into the development of the DE 18. We are proud to say that it is a fuel efficient locomotive without compromise in every respect, offering our customers maximum versatility in terms of applications, economic and ecological advantages, and thus investment security, both in its mature configuration and in the SmartHybrid version. Through the transactions with Nexrail and InfraVia, we will jointly make a significant contribution to the provision of highly efficient and environmentally friendly rail freight services in the extended Benelux region for decades to come."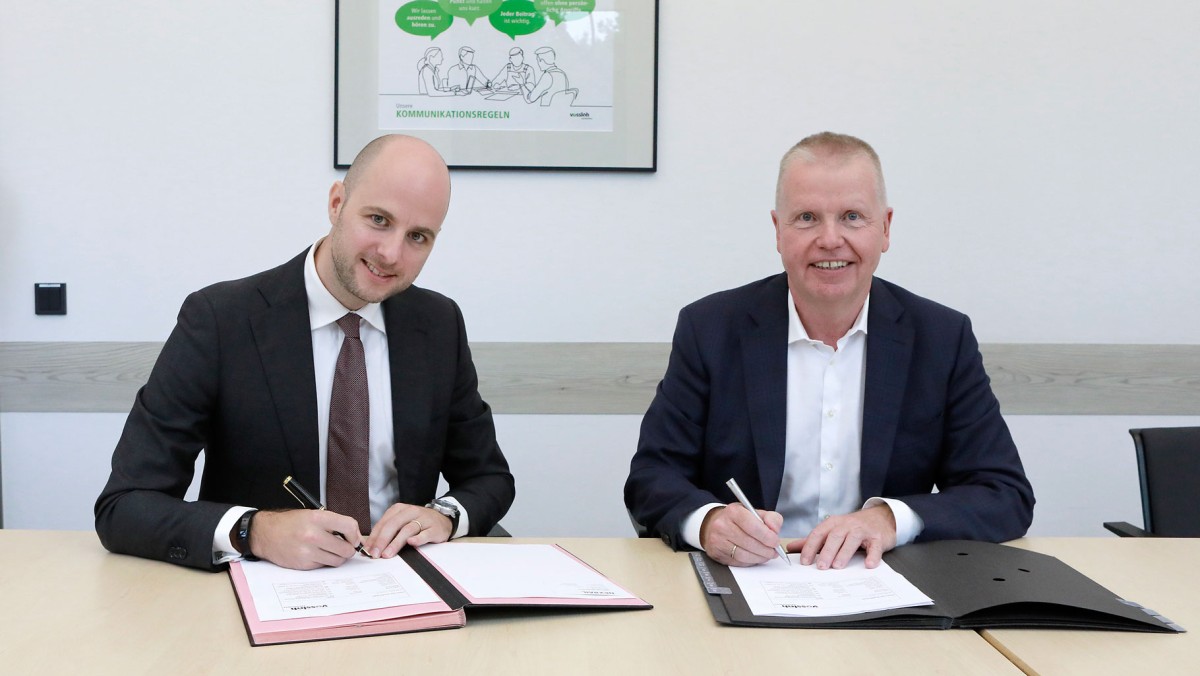 Neil Bennett, Executive Chairman of Nexrail Lease stated: "Nexrail brings together a team of locomotive investment and management specialists to deliver innovative, full-service leasing solutions through a fleet of modern locomotives that enable operators and industrials to meet their sustainability targets. Nexrail is already developing plans to introduce sustainable fuels and battery hybrid solutions across all its markets. This transaction with Vossloh Locomotives and the order of the DE 18 Stage V SmartHybrid for the Benelux market is the inaugural step of our own journey as a lessor. We are looking forward to working with Vossloh Locomotives in multiple markets and I am very excited to be starting this journey with the management team and InfraVia."
Luuk von Meijenfeldt, CEO of Nexrail: "With the investment that Nexrail is making today, we are sending a strong signal to the market that Nexrail is their partner for locomotives on non-electrified parts of the network all over Europe. For our Belgium clients, it is a particularly important message because our DE 18 Stage V SmartHybrid is not just the first hybrid locomotive of its kind but also the first mid-cab locomotive introduction to Belgium in twenty years. You can expect more of such introductions from us all over Europe. The whole management team is looking forward to discussing with our clients their locomotive needs across all power ranges, all innovative traction technologies, and all alternative fuels."
Athanasios Zoulovits, Partner at InfraVia Capital Partners, stated: "We are very pleased to announce the signing of this landmark agreement between Nexrail and Vossloh Locomotives. The rail freight transport market is growing continuously. This positive tailwind is expected to gain further momentum driven by the virtuous role rail plays in reducing carbon intensity of supply chains. The strong replacement needs of the aged European rail locomotive stock driven by regulatory requirements on emissions and signalling and the increasing demand of operators for innovative full-service leasing solutions provide further support to the investment thesis of the Nexrail team which we are delighted to support."
About Vossloh Locomotives
State-of-the-art mid-cab locomotives from Vossloh Locomotives lead the way throughout Europe. For the European market leader, attributes such as economy, flexibility, and environmental friendliness are in focus during development, construction, and production. For all kinds of maintenance issues, Vossloh Locomotives also offers solutions that are oriented toward the specific needs of customers. In the competence centres, operators also obtain extensive services involving all aspects of state-of-the-art shunting and mainline locomotives. With the changeover in 2020 to the new parent company CRRC ZELC, the long-established company has opened another international chapter. For more information, visit www.vl-rs.com
About Nexrail Lease
Nexrail is a rolling stock lessor operating in Western Europe. Its current portfolio of ca. 100 locomo-tives (53 operational and 50 under order) is currently dedicated to the freight and shunting markets with clients located in Germany, France, Italy, Belgium and Luxembourg. Nexrail was created by a group of seasoned rail leasing professionals with the ambition to become the leading European platform offering hybrid/dual mode traction and innovative locomotives and specialized rolling stock to its clients. Nexrail Lease is a portfolio company of funds managed by InfraVia Capital Partners. www.nexrail.lease
About InfraVia
InfraVia is a leading independent private equity firm, specialized in infrastructure and technology investments. InfraVia supports entrepreneurs and companies in their growth journey and help them to expand their businesses and transform them into top-tier platforms. Since 2008, InfraVia has been raised more than EUR 7.4 billion of capital and invested in 30+ companies across 13 European countries. www.infraviacapital.com
Press contacts at Vossloh Locomotives:
Verena Jeroch | Head of Communication & Marketing | Verena.Jeroch@vl-rs.com |+49 (0431) 3999 –2613
Press contacts at Nexrail Lease:
Luuk von Meijenfeldt | CEO | luuk.vonmeijenfeldt@nexrail.lease
Mark Remie | CCO | mark.remi@nexrail.lease
Bernd Wagner | CTO | bernd.wagner@nexrail.lease
Press contacts at InfraVia Capital Partners:
Vincent Levita | InfraVia, Gründer und CEO | vlevita@infraviacapital.com | +33 (0)1 40 68 17 38
Antoine Denry | Taddeo | antoine.denry@taddeo.fr | +33 (0) 6 18 07 83 2
23.06.2021

Purchase agreement for up to 50 "zero-emission" shunting and mainline locomotives
17.06.2021

Alstom to equip 50 locomotives with Atlas on-board signalling solution for Vossloh Locomotives
08.06.2021

ERA type approval of DE 18 locomotive in Italy
With ERA type approval of the DE18 locomotive in Italy, Vossloh Locomotives is reinforcing its market position and further developing interoperability on the European rail network.
With the approval of DE 18 Locomotive in Italy, Vossloh Locomotives is further enhancing interoperability in the markets across Europe. The four-axle universal locomotive, which continues to excel as the most powerful mid-cab locomotive on the European market, has established itself as a state-of-the-art industry standard since 2014. Today, more than 130 of these locomotives are reliably performing their services in a variety of extremely demanding shunting, freight and rescue applications. Equipped with selectable operating modes, these locomotives are suitable for powerful, economical and low-emission operations.
With the implementation of the 4th Railway Package, the EU Railway Agency took over responsibility for issuing vehicle authorizations: "This first ERA approval for one of our locomotives is an important milestone for us," stressed Dr. Bernd Hoppe, Executive Director and General Manager of Vossloh Locomotives GmbH. "I'd like to thank all the employees for the dedication they showed in working so closely with the EU Railway Agency, the Italian safety authority ANSFISA and the infrastructure manager RFI in order to ensure the new approval process requirements were met."
All the Italian DE 18 locomotives are equipped with the specific Italian SCMT/SSC systems as well as the European Train Control System (ETCS). Furthermore, the locomotives benefit from the well-established IMATEQ organization in Rivalta Scrivia. The technicians at IMATEQ are ready to support DE18 maintenance with a service portfolio tailor-made to suit customer requirements across all levels from classic spare parts management to ECMcertified services and the management of entire fleets. IMATEQ also gives operators the option to rent the product, which adds value to the service portfolio and rounds off the product we bring to market.
14.04.2021

VTG Rail Europe and IMATEQ join forces: First joint workshop for integrated railway maintenance
03.06.2020

CRRC ZELC's acquisition towards Vossloh Locomotives is perfect
At the end of intensive preparation, the acquisition of Vossloh Locomotives GmbH and its subsidiaries by CRRC Zhuzhou Locomotive Co., Ltd., Zhuzhou, China (CRRC ZELC) on
June 01, 2020 has reached the long expected closing. CRRC ZELC, a key subsidiary of CRRC (China Railway Rolling Stock Corporation Ltd.), is a global leading rolling stock equipment manufacturer. Vossloh Locomotives is the first company that CRRC ZELC is acquiring in Europe.
Upon completion of the transaction, Vossloh Locomotives will be operated with all its subsidiaries under unchanged brand name and as an independent legal entity. Neither personnel-related nor structural changes are anticipated for the German locations in Kiel and Moers or the European subsidiaries. The paramount goal is to retain engineering expertise for the production of existing products and to promote new product developments with innovative drive concepts through a partnership structure.
In addition, CRRC ZELC will bring 'its products, technology, supply chain and R&D capabilities to complement Vossloh Locomotives' value proposition. The new Vossloh Locomotives and CRRC ZELC will work closely to improve and innovate the offerings to their highly valued clients.
Both Vossloh Locomotives and CRRC ZELC value long-term business relationships and collective development of their portfolio. "With CRRC ZELC's strategic investment, the new Vossloh Locomotives will embark on a greater journey and rejuvenate her 150-year history", says Dr. Bernd Hoppe, Chairman of the Board of Vossloh Locomotives, about the restart.
Vossloh Locomotives
State-of-the-art shunting locomotives from Vossloh Locomotives have been leading the way throughout Europe. For the European market leader, such attributes as profitability, flexibility and eco-friendliness are in focus during development, construction and production. For all kinds of maintenance issues, Vossloh Locomotives also offers solutions that are oriented toward the specific needs of customers. In the competence center, operators also obtain extensive services involving all aspects of state-of-the-art shunting locomotives.